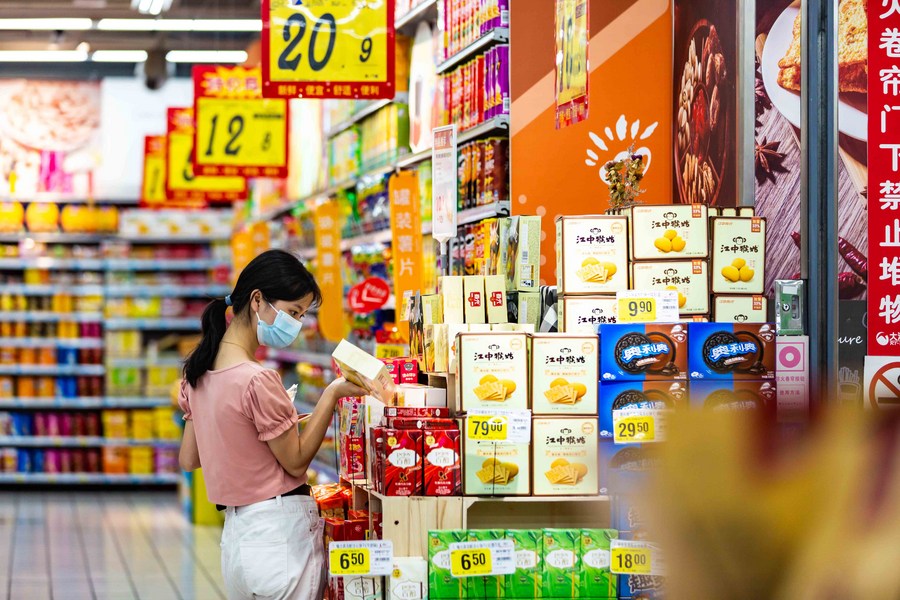 He says, 'In second half, we still need to do everything ... to spur consumption'
China will adopt measures to further bolster demand, promote effective investment and boost consumption, according to a decision made at the State Council Executive Meeting chaired by Premier Li Keqiang on Friday.
The meeting underscored the imperative need to ensure an effective COVID response, economic stability and development security, and seize the current crucial moment to consolidate the foundation for recovery and keep major economic indicators within a proper range for the whole year. Employment and price stability is of vital importance to maintaining stable economic performance. Multi-pronged measures will be adopted to boost effective demand.
"We must fully leverage the key factor of effective investment to generate physical gains as quickly as possible. The third quarter is a peak season for construction projects, hence it's crucial for sustaining the momentum of economic recovery," Li said.
"We should better utilize special-purpose bonds and policy-based and development-oriented financial instruments, and the coordination mechanism on effective investment for major projects should continue to operate with high efficiency," he added.
Projects utilizing central government budgetary investment will be accelerated, and local governments are urged to expedite use of special-purpose bonds. Policy-based and development-oriented financial instruments will be used to good effect in a market-oriented manner. Projects that they support should be consistent with the 14th Five-Year Plan period (2021-25) and deliver both immediate and long-term benefits.
Investment will mainly be directed toward infrastructure projects including transportation, energy, logistics, agriculture, rural areas and new infrastructure. The funds shall not be used for land plot purchases or to replenish local public finances.
"Consumption should still be the main driver for stabilizing growth. The new round of COVID flare-ups has hit consumption hard and caused quite a big decline. In the second half of the year, we still need to do everything possible to spur consumption, starting with big-ticket consumer goods," Li said.
Except for a few regions, localities with automobile purchase restrictions should increase new license plate quotas and gradually ease the eligibility requirements for car buyers. Bottlenecks in the circulation of used cars should be removed, and the tax exemption policy for new energy vehicle purchases will be extended.
Support will be extended to meeting people's basic housing needs and the need for improved housing conditions. Localities will be encouraged to provide subsidies or interest discounts as appropriate for environmentally friendly smart home appliances and building materials.
Support policies for industries facing difficulties such as catering, retail, tourism and transportation will be fully implemented, and extra value-added tax deductions in the services sector will be extended across the board.
The meeting also noted the overall price stability in China, which is a major achievement against the backdrop of high inflation worldwide. Food is of paramount importance to the people and food prices are the basis for overall price levels. With summer grain output hitting a record this year, the meeting called for resolute efforts to ensure high grain yields this fall in order to keep annual grain output above 650 billion kilograms.
Minimum purchase prices for rice will be launched in a timely manner to ensure farmers' incomes. The central government will allocate another agricultural supplies subsidy this summer, and local governments will provide support funds. Fiscal and financial support for the construction of rice seedling centers will be provided to help promote double-season rice cropping.
"A bumper harvest and increased grain output this summer not only serves to meet China's own demand, but also, in a way, contributes to the stability of the global food market. Going forward, we must focus on promoting autumn grain production," Li said.