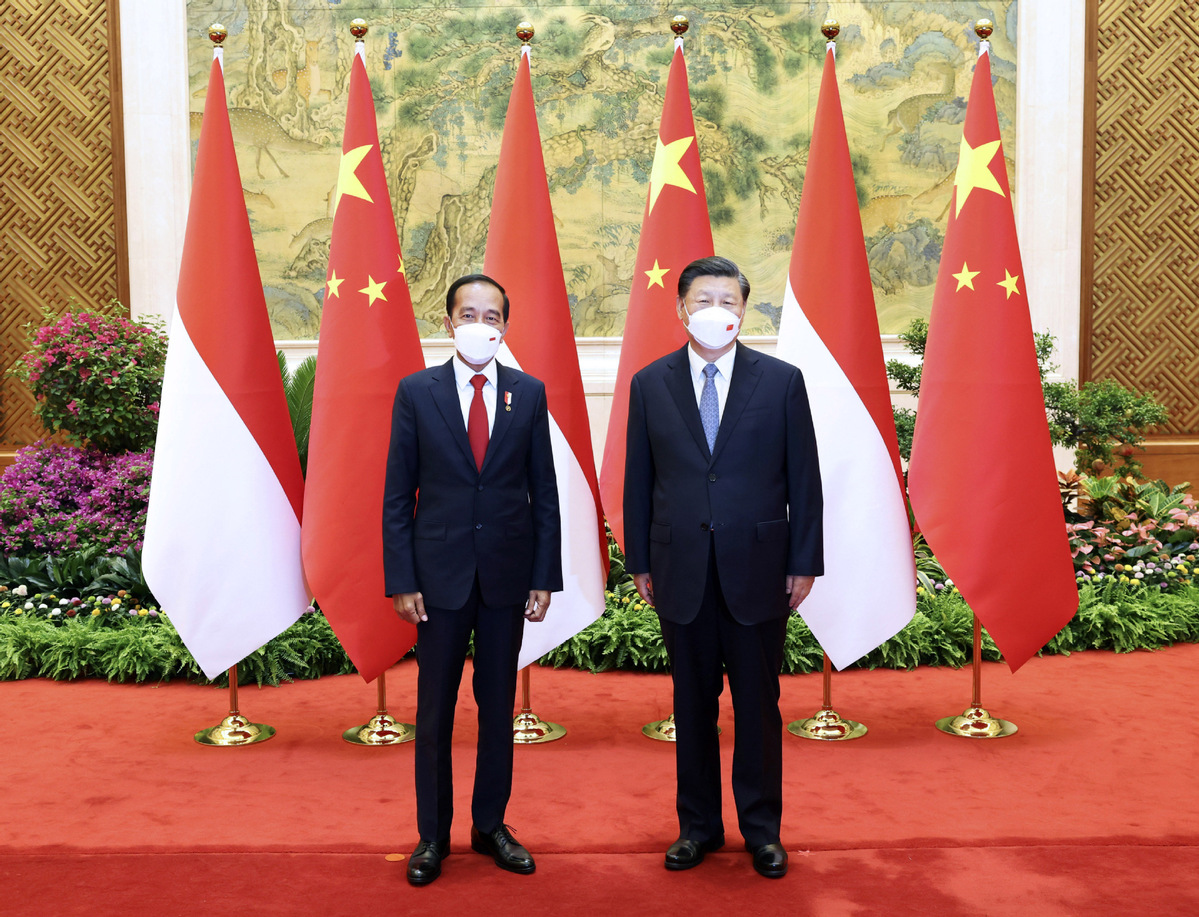 President Xi Jinping called on Tuesday for stronger solidarity between China and Indonesia through practicing true multilateralism, upholding open regionalism and contributing the wisdom of the East and the strength of Asia to promoting global governance.
In talks with visiting Indonesian President Joko Widodo at the Diaoyutai State Guesthouse in Beijing, Xi urged both sides to consolidate strategic mutual trust and extend steadfast support to each other in protecting national sovereignty, security and development interests, exploring paths of development suiting national conditions, pursuing economic development and improving people's living standards.
The president told Widodo, the first foreign head of state to visit China since the Beijing Winter Olympic Games, that building a China-Indonesia community with a shared future is the common aspiration and expectation of the two peoples, and he is pleased that the two sides have decided on this overall direction.
He said the visit, Widodo's fifth trip to China, spoke volumes about the emphasis given by both sides to developing bilateral ties.
Xi highlighted the need for both nations to deepen Belt and Road cooperation, including steps to ensure the completion of the Jakarta-Bandung high-speed railway as scheduled and the sound implementation of other landmark projects such as the Regional Comprehensive Economic Corridor and "Two Countries, Twin Parks" — which allows the two countries to develop interconnected business sectors in industrial estates.
Beijing will continue to provide full support to Indonesia in developing a regional production center for vaccines and work toward closer public health cooperation, he said. China had provided 290 million doses of vaccines to Indonesia as of March this year, more than any other country.
The total trade volume in goods between the two nations reached 448.1 billion yuan ($66.28 billion) in the first half of this year, up 28.7 percent year-on-year. In the same period, Chinese imports from Indonesia, mostly commodities, surged 33 percent year-on-year, according to the General Administration of Customs.
Xi said that China is ready to continue expanding its imports from Indonesia, especially with regard to bulk commodities and high-quality agricultural produce.
China is willing to take an active part in the development of the new capital of Indonesia and the green industrial park in North Kalimantan province, and will strive to foster new growth engines in the digital economy and green development, he said.
Xi expressed full support to Indonesia in hosting this year's summit of G20 leaders in Bali in November, saying that China is willing to strengthen coordination with Indonesia to ensure the success of the event.
He also conveyed support to Indonesia as the rotating chair of the Association of Southeast Asian Nations next year. Beijing is willing to boost solidarity and cooperation with ASEAN and further release new momentum from the China-ASEAN comprehensive strategic partnership, the president said.